B.B. Miniatures

BARBARA BREAR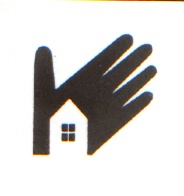 B.B. Miniatures

3 Uitgift Street

SOMERSET WEST

7130

South Africa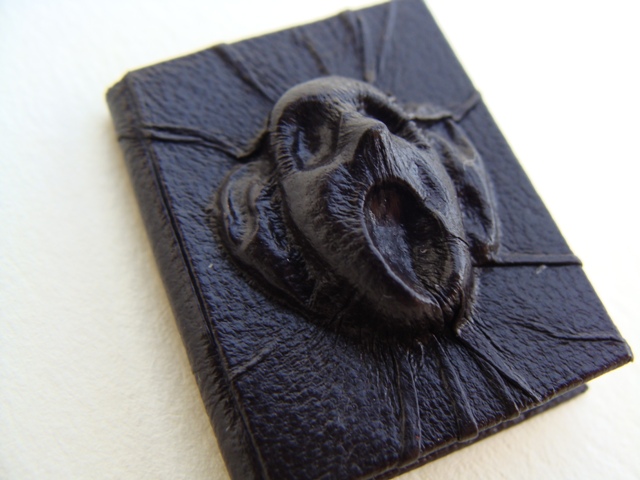 On this page you will find miniature books in one twelfth scale for your wizards and witches - ghostly books, Halloween books; spells and potions and all things ghoulish.   Here you will find fully printed books, open books and faux books.

Character trapped in a book:  Sorry - not available at the moment due to leather shortage

This story was specially written for me by Wanna in El Paso.   Wanna is a miniaturist and story teller so she was the perfect person to write the story.  Go to
www.wannainelpaso.com
and click on Fantasy.
The character is trying to escape the book, without too much success.  The book is fully printed with legible type and is properly sewn and bound in leather.  The fine black leather is pulled over the face giving a terrifying view of what is trapped inside.  Marbled end papers.  Limited edition of 168 books all numbered and signed.

50 US dollars. 

Also available with a matching clamshell box for collectors - 100 US Dollars for the book and box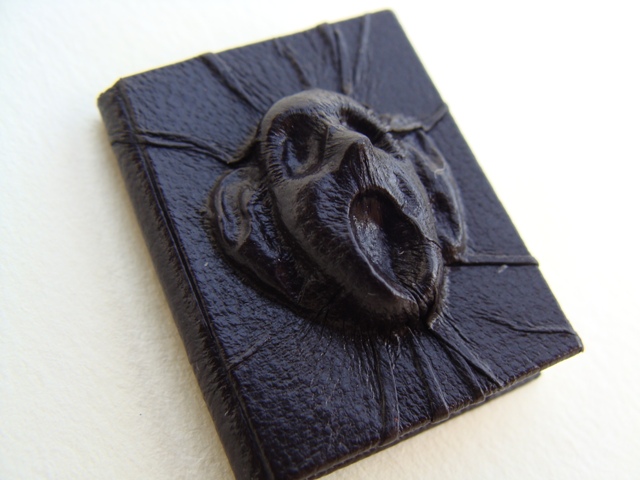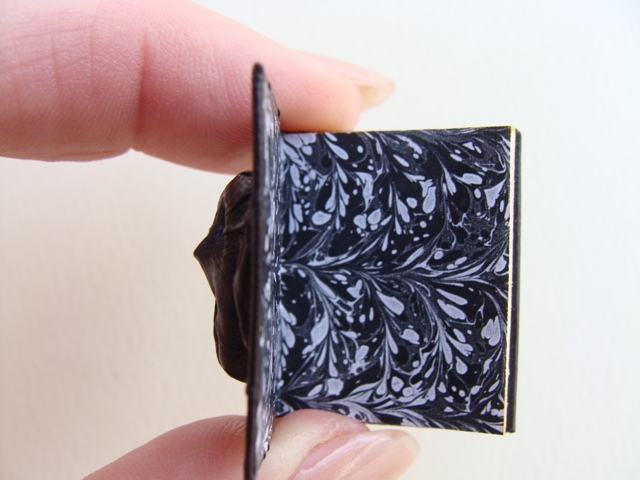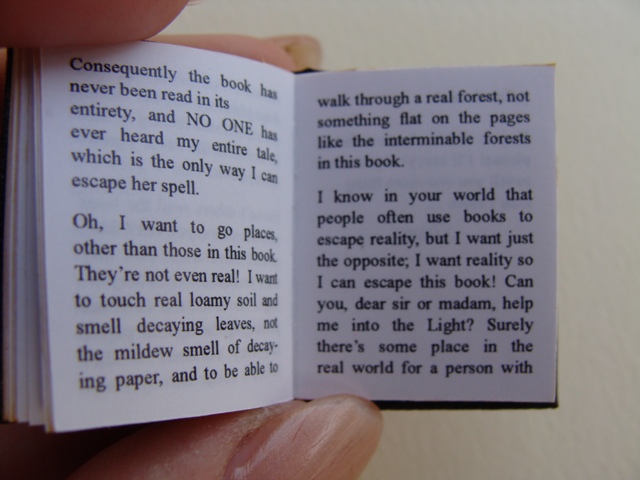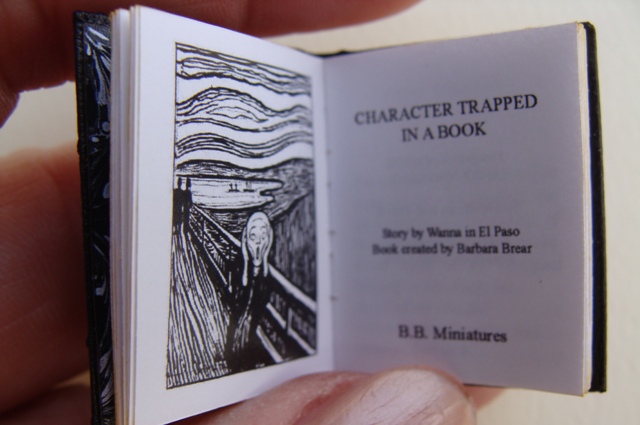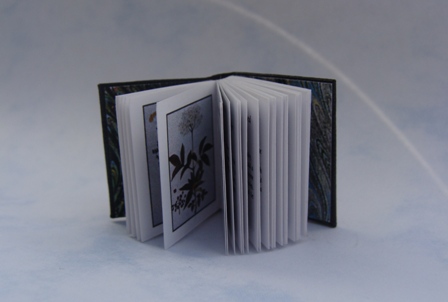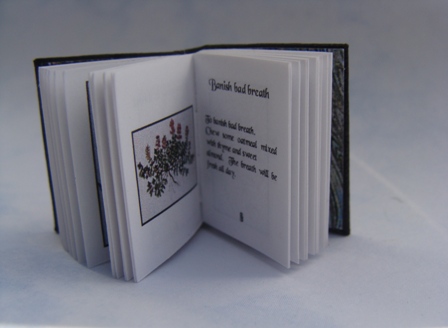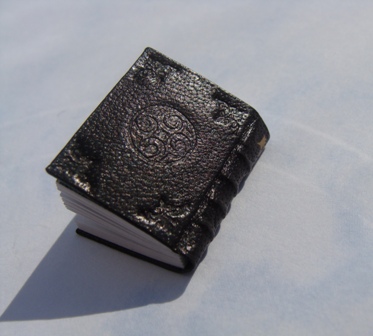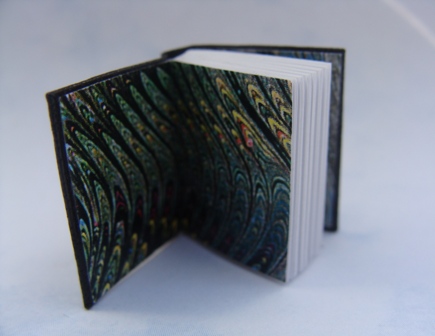 Spells and Potions

Fully printed with healing spells and potions, illustrated with the appropriate herbs.  Fully sewn and properly bound with marbled end papers.  The cover is the finest, thinnest leather which has been blind tooled with a centre design and a corner detail in each of the four corners.  Limited edition all numbered and signed.

40 US Dollars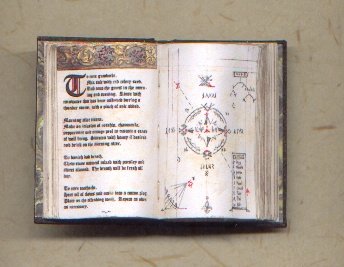 Open Magician's Spell book

This book is designed to lie in a permanently open position on a desk or flat surface.  However, the book has been sewn and properly bound and is covered with the finest leather.  Gold tooling on the spine and blind tooling on the front cover.   Marbled end papers can just be seen peeping out on either side.

30 US Dollars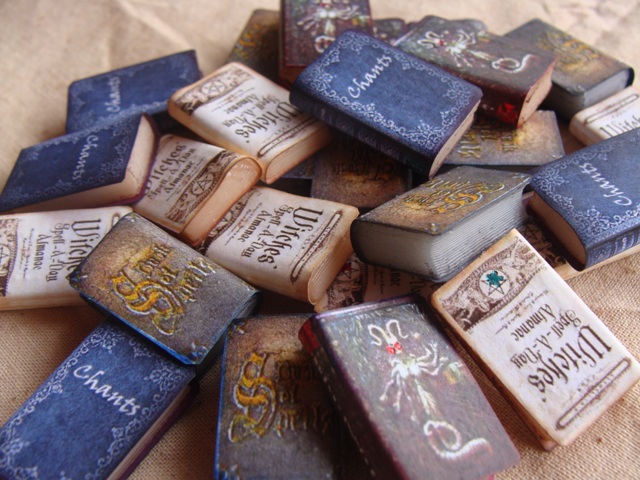 Faux books all witchy and wizardy.  Titles such as Book of Spells, The Dark Arts, Spell-a-day Almanac, Runes from Ireland, Do-it-yourself broom care and many more.

  6  US Dollars each if you buy them individually

100 US Dollars if you buy a set of 25

300 US Dollars if you buy a set of 100